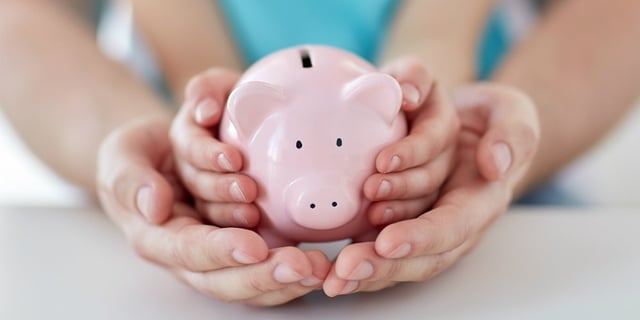 We believe in financial education for our littlest savers. Sending them on a path to financial wellness now, will help to set them up for the future.
Between allowance, birthday gifts and the tooth fairy, today's kids under the age of 10 are bringing in quite a haul. A RoosterMoney.com report, entitled The Allowance Report, found that 72% of parents give kids a regular allowance, at an average of $8.43 per week. Here is how it breaks down. According to the report, weekly allowance for 4-year-olds is $4.41 and $5 for kids at age 6. Weekly allowances then jump to $7.09 for 8-year-olds and an average of $8.02 at age 10.
Kids win big on birthdays, bringing in an average of $42. Even the tooth fairy has upped her donation with an average of $5.61 per tooth. The top two paid chores for kids are mowing the lawn for an average $8.06 haul, and washing the car for $5.05.
Introducing an allowance provides kids with an awareness of money and teaches them the concept of working for money from an early age. But how can parents teach kids a more sophisticated value of money? And, how should they build the necessary foundation of financial education that includes budgeting, distinguishing between wants and needs, saving and money management that will set them up for success as adults?
It starts with having conversations about it. When they ask for that mystery Lego minifigure or latest gaming app, talk about what's saved in their piggy bank and help them come up with a plan to pay for it themselves. You'd be surprised how frugal some kids can suddenly be when it's their own money they're spending.

And since these are kids we're talking about – who don't know a checking account register from a rotary telephone – here are two free apps that can help make keeping track of their funds fun.
Bankaroo:

Designed for ages five to 11, this app allows kids to create a "virtual accounts" to track their savings, available funds and allowance income. Kids can create virtual bank accounts to keep up with their available funds, allowance income and savings goals. Bankaroo teaches kids how to budget, save, set goals and even do basic accounting.
PiggyBot:

This is a virtual piggy bank for kids ages three to six. Young kids can manage their chore charts, keep track of money earned and send their parents reminders to pay. The app rewards kids with a celebration of digital confetti each time they get paid. Kids can set savings goals and view their progress as they work toward what they want.- Myriam Digiovanni, Financial Feed
Source: https://www.cuinsight.com/helping-kids-manage-their-money.html