Students in southeast Louisiana have a fresh batch of school supplies to kick off the new school year, thanks to Louisiana Federal Credit Union and its Pack the Pirogue initiative.
This month, Louisiana FCU staff delivered pirogues filled with 2,735 pieces of school supplies to classrooms in the Tangipahoa, Ascension and River Parishes. The donation included notebooks, pens, markers, paper, folders, and calculators, just to name a few. Pack the Pirogue, now in its third year, attracts hundreds of donations from credit union staff, members and business partners across the region.
"We look forward to Pack the Pirogue every year. It continues to grow! We more than doubled what we received in 2018," said Rhonda Hotard, President/CEO of Louisiana FCU. "Our members, our business partners, our staff – They stepped up and made the school year special for so many kids."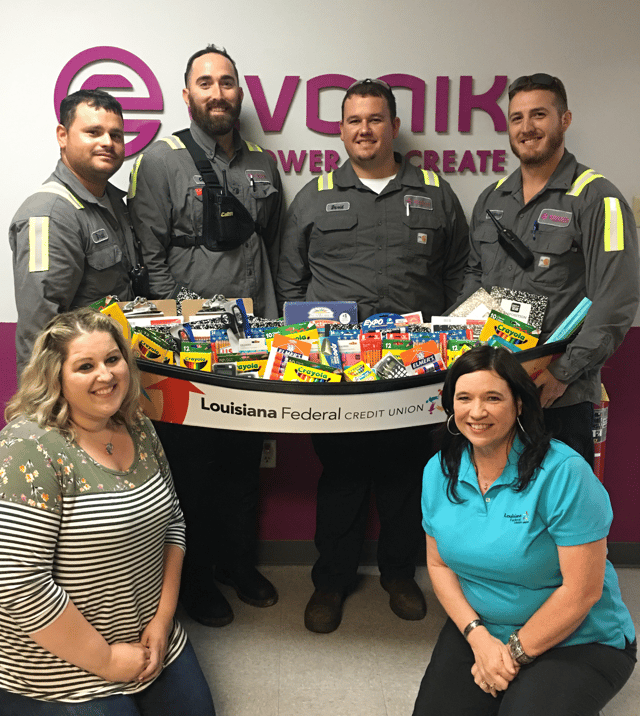 Photo: Evonik Corporation, a business partner of Louisiana FCU, donated nearly $300 in cash and supplies towards to this year's Pack the Pirogue initiative
This year, the colorful pirogues were donated to classrooms at Laplace Elementary School, St. Charles Catholic High School, D.C. Reeves Elementary, St. Peter Chanel, Luling Elementary and Pecan Grove Primary.
"Pack the Pirogue is awesome," said Megan Otwell, a kindergarten teacher at Luling Elementary whose class was nominated to receive a pirogue. "It's great support for the schools, for the classrooms, and for the teachers."
Louisiana FCU started Pack the Pirogue in 2017 to help provide learning tools to local kids who couldn't otherwise afford them, and to help take the financial burden off teachers whose classrooms may lack supplies.
"A lot of teachers around Louisiana go out of their way and use their own money for supplies," said Otwell. "Without these supplies, it can affect (the students') learning."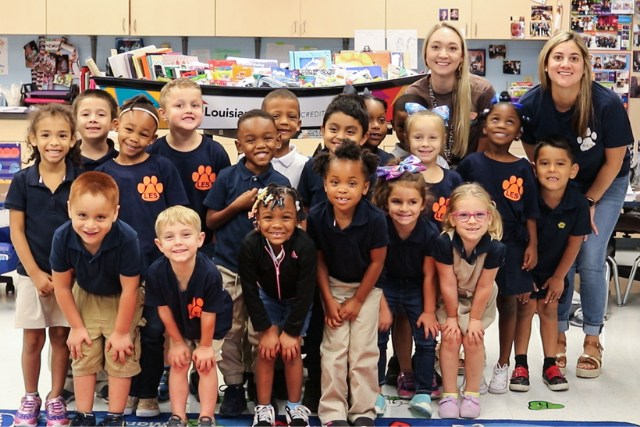 Photo: Megan Otwell (far right) and her kindergarten class say "cheese" in front of the pirogue full of school supplies they received.
Sandra Mutin, a teacher at Laplace Elementary School, was nominated by one of her second-grade students who described her as "the best teacher ever."
"This means the world to me," said Mutin. "I want to give a big shout out to Louisiana Federal Credit Union for such a great gift: A boatload of supplies for my students. It's going to help us in a tremendous way."
Since 2017, Louisiana FCU has donated more than 4.5 tons of school supplies to classrooms across the region.