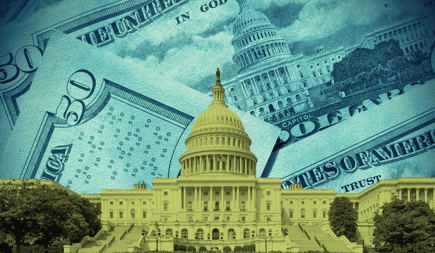 It's another stimulus bill, which means more checks are coming! But don't hit the shops just yet. Even though the new bill promises bigger stimulus checks, there are stricter eligibility requirements — and that's just the tip of the iceberg.
Here are some of the most significant measures included in the $1.9 trillion American Rescue Plan to help you know what to expect going forward.
Stimulus payments
The third round of stimulus checks are set at $1,400. Eligibility for the check is based on your adjusted gross income (AGI). Adjusted gross income is tax lingo for your total income minus certain deductions like IRA contributions, student loan interest payments, self-employment tax and health savings account contributions.
Here's who is getting checks:
Single taxpayers with an adjusted gross income (AGI) of $75,000 or below.
Taxpayers filing as heads of household with AGIs of $112,500 or below.
Married couples filing jointly with AGIs of $150,000 or below.
Parents will also be getting checks for every child they claim as a dependent on their tax return, including college students and adult children with disabilities.
Older relatives who are living with taxpayers will also be counted as dependents.
Higher earners will receive partial payments, but these will phase out quickly. For single filers, the checks stop at an AGI of $80,000. For heads of household, the checks stop at AGIs of $120,000, and for joint filers, the cutoff is $160,000.
To be eligible for a payment, an individual must have a Social Security number.
Changes to unemployment insurance



The relief bill will extend unemployment benefits through September 6. The weekly supplemental benefit of $300 will continue running through that date, too.
The first $10,200 of benefits will be tax-free for those earning less than $150,000. This only applies to unemployment paid in 2020.
In addition, unemployment benefits received through the Pandemic Unemployment Assistance program will run through Sept. 6. Benefits received through the Pandemic Emergency Unemployment Compensation program would also run through that date.
Changes to the child tax credit



The relief bill will expand the child tax credit to $3,000 for children ages 6 through 17, and to $3,600 for children ages 5 and under. The credit will now also be fully refundable.
In addition, half the child tax credit may be advanced to parents before the end of 2021. Plans for the distribution are still being finalized, but lawmakers are hopeful that parents will start getting monthly payments toward their child tax credits for 2021 as early as July.
Married couples with a modified AGI of up to $150,000 (or up to $112,500 for heads of household and up to $75,000 for single filers) would receive the full value of the new benefit.
Changes to student loans



There will be no income tax on forgiven debt for those that qualify for loan forgiveness or cancellation. This would apply to all debt forgiven between Jan. 1, 2021, and Dec. 31, 2025.
Spend wisely! Here are four guilt-free ways to spend your stimulus money.
Louisiana has cautioned taxpayers to be extra vigilant as thieves find new creative ways to steal your stimulus check from you. We've gathered all the need-to-know information so you can arm yourself with awareness against these crimes. Check out the article scammers are trying to steal your stimulus check (and more!).
If you still have questions about the third Economic Impact Payment, we answered a list of commonly asked questions about the stimulus payment as it pertains to Louisiana FCU members.
Did you find this article helpful? Subscribe to our blog and have great financial insights delivered to your inbox weekly.