Special financing for new homebuyers.
Homeownership is not a myth.
Picture a place that's uniquely yours. Your vision, your style, your home. Our First Time Homebuyer Program makes homeownership accessible and affordable, requiring as little as 3% down for those looking to buy their first home. It's more than a loan, it's your first step into a house that's truly yours.
EXCLUSIVE PERKS FOR FIRST TIME HOMEBUYERS.
97% FINANCING


Traditional mortgage lenders require you to pay 5-20% of the house's purchase price upfront. With the First Time Homebuyer Program, you only pay 3%*.
NO PMI

The reason people put 20% down is to avoid paying private mortgage insurance (PMI) fees. With the First Time Homebuyer Program, you can skip the fee without needing a ton of cash upfront.
LOW FIXED RATES

Unlike a bank, our profits go right back to you in the form of better rates and lower fees.
THE COMPLETE GUIDE TO BUYING THE HOME YOU LOVE

Buying a home should be done on your terms. To help you get there, we compiled years of sound advice from our mortgage experts into one comprehensive how-to guide that walks you through every step of the home buying journey. Whether you are a first-time home buyer or an experienced homeowner, this jargon-free roadmap will help you confidently buy the home of your dreams.

We've helped members like you afford the home of their dreams.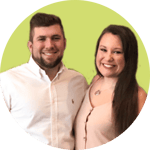 "Our loan experience with Louisiana FCU exceeded the already high expectation we had. Whenever we had a question, they always had the answer. It was such a relief to know we were in great hands and would HIGHLY recommend Louisiana FCU to anyone for the First Time Homebuyer Program, or any loan for that matter!"
- Taylor and Danielle, Members since 1994
GET ANSWERS TO FREQUENTLY ASKED QUESTIONS
Will I need a down payment?
Yes, 3% of the purchase price is required as your down payment. The funds may be your own or a gift from someone else.
What if I own a mobile home? Can I qualify for this loan?
No. Mobile homes are considered a primary dwelling, which would make you a present homeowner.
What if I owned a home before? Would I qualify?
To be eligible, you must not have been listed on a property title within the last three years. This includes not just having a mortgage, but also situations like inheriting a home. In such cases, you would no longer be considered a first time homebuyer.
Can I get a pre-approval?
Yes, you can. We can also assist in determining your price range.
How does the First Time Homebuyer Program compare to an FHA loan?
Our First Time Homebuyer Program has a lower down payment; lower closing fees and lower monthly payments with the possibility of no mortgage insurance payments. However, the First Time Homebuyer Program offers a 30-year term exclusively.
What is PMI?
PMI stands for Private Mortgage Insurance. It is a monthly payment lenders require if you do not put down 20%.
Do I only have to pay the down payment?
Not quite. You are still required to pay your closing cost, taxes and insurance premiums.
Can the seller assist with these fees?
Yes, please consult with your realtor for help with seller paid fees.
Can the seller assist with these fees?
Yes, please consult with your realtor for help with seller paid fees.
Minimum credit score is 640. Minimum loan amount is $50,000. Closing fees, upfront escrows of insurance, and property taxes still apply. The seller can contribute to these costs.