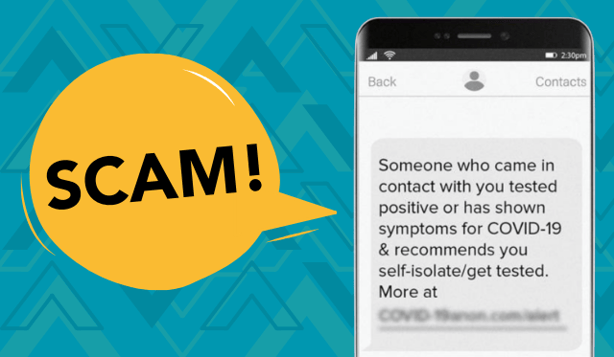 Fraudsters are stooping to new lows as the world continues to fight COVID-19. Whether they are posing as the CDC or the IRS, scammers have shown that there is no line they won't cross to benefit from the mass panic caused by the pandemic. Recently, scammers have found a new scare tactic to help them swindle people. The Federal Trade Commission (FTC) warns that scammers posing as government contact tracers are sending text messages to potential victims asking them to click malicious links.
How the scam works
Contact tracing is the process of identifying people who have come in contact with someone who has tested positive for COVID-19, instructing them to quarantine and monitoring their symptoms daily. Scammers are taking advantage of this new protocol by sending out their own text messages with similar warnings. The faux message includes a link that directs recipients to a website where they can "learn more." According to the FTC, when that link is clicked, malicious software is downloaded onto a person's smartphone, giving hackers access to their target's private information.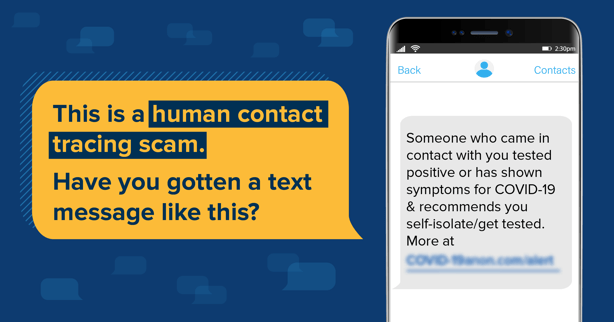 Source: Federal Trade Commission
How to avoid falling victim to contact tracing text scams
If you receive a text message like this, don't take the bait. Ignore and delete the message immediately.
According to the FTC, there are several ways you can filter unwanted text messages or stop them before they reach you.
Your phone may have an option to filter and block messages from unknown senders or spam.

Your wireless provider may have a tool or service that lets you block texts messages.

Some call-blocking apps also let you block unwanted text messages.
Here are several other steps you can take to protect yourself from text scammers.
Protect your online accounts by using multi-factor authentication. It requires two or more credentials to log in to your account, which makes it harder for scammers to log in to your accounts if they do get your username and password.

Enable auto updates for the operating systems on your electronic devices. Make sure your apps also auto-update so you get the latest security patches that can protect from malware.

Back up the data on your devices regularly, so you won't lose valuable information if a device gets malware or ransomware.


Keep a closer eye on your account activity. Add an extra layer of fraud detection to your finances with the MyCardRules app. It's 100% free and gives you the power to shut off your Louisiana FCU card at any time.
Like this article? Subscribe to our blog and have great financial insights delivered to your inbox weekly.