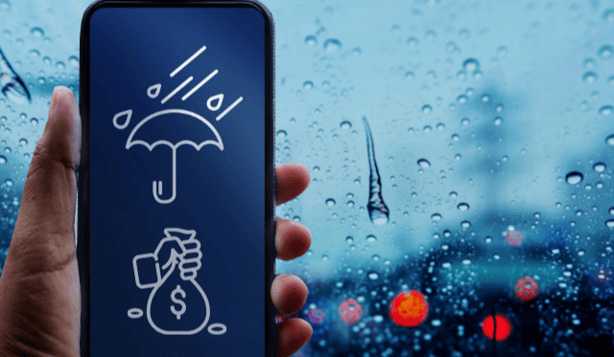 It's hurricane season — which means any week from now until December has the potential to become a wrecking ball-sized crisis. By making financial preparations now, you can focus more on you and your family's safety when a storm hits.
Here is an infographic featuring eight ways to ensure fiscal preparedness when the next storm strikes.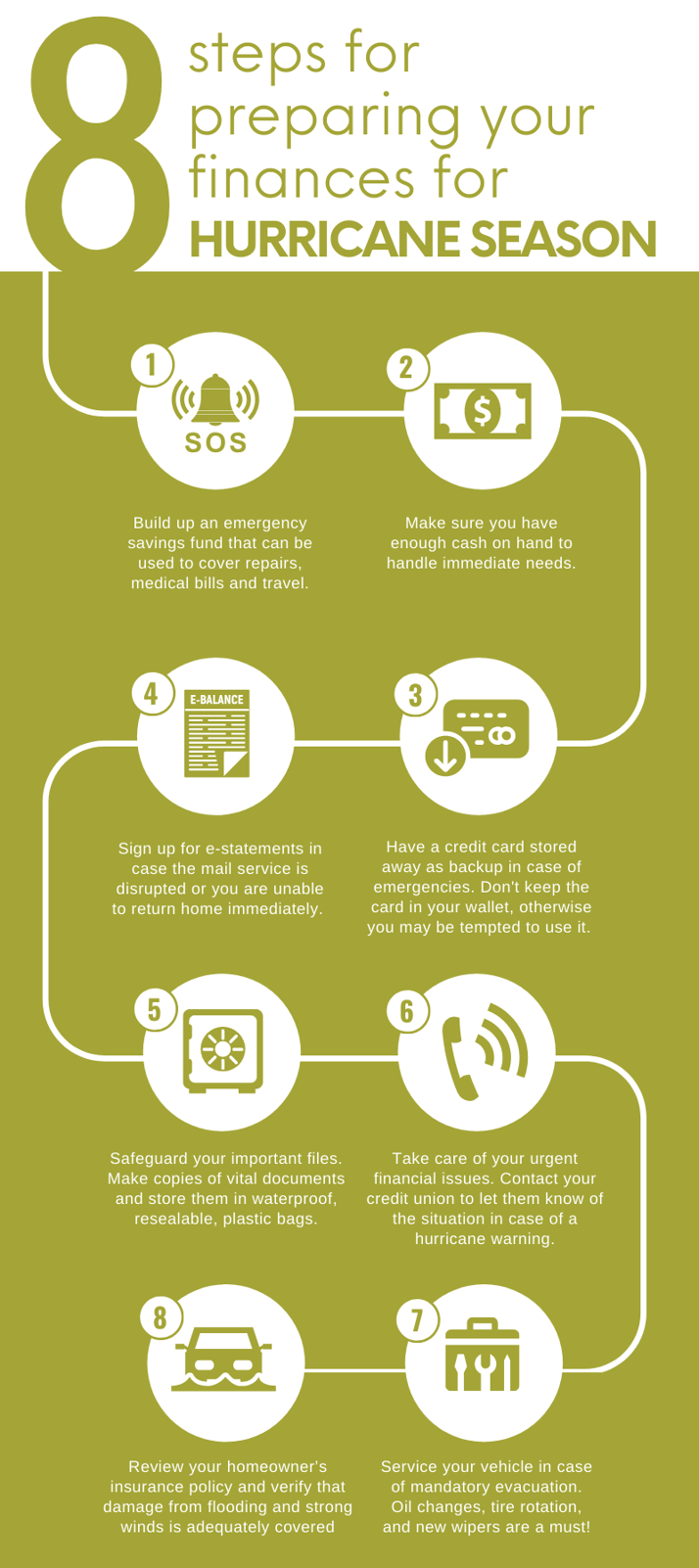 1. Strengthen your emergency fund
Open a savings account specifically for natural disasters and feed it all year. This emergency fund can be used to cover repairs, medical bills and travel during hurricanes and tropical storms. If the storm ends up being a false alarm, stay on path and continue building your fund. You never know when the next hurricane will hit.
A money market account is a safe place to park money and earn some interest. There are limits to how many monthly withdrawals you can make, but as long as you stick to your limit, a money market account gives you a slightly better rate than a traditional savings account. Perfect for emergency prep!
2. Withdraw cash
Make sure to keep enough cash on hand to handle immediate needs. Avoid long lines and possible closings by getting your cash as soon as possible. If you're evacuating, bring your checkbook to cover large expenses.
Louisiana FCU is part of the biggest free ATM network in America, so whether you're headed north, south, east or west, you can access your money at any one of our 30,000 ATMS in the country. Click here to find one near you.
3. Consider an emergency-only credit card
Have a credit card stored away as backup in case of emergencies. Don't keep the card in your wallet, otherwise you may be tempted to use it. The card should have enough available credit to accommodate purchases of food and supplies for a week or more. Having a designated credit card for a hurricane can help you track and document disaster-related expenses as you purchase them.
4. Go electronic
Make sure that you are registered for online and mobile banking. Doing so will make accessing your money much easier during the storm.
If you haven't already, sign-up for e-statements to ensure that your account statements arrive on time in case the mail service is disrupted by the hurricane. E-statements can also help to keep you safe if you're away from home for an extended period of time. A mailbox that's bursting at the seams with letters might attract thieves, who will be looking for bank statements, credit card offers and checks. Scammers are always on the prowl for documents that contain important, sensitive information.
5. Place important documents out of harm's way
Make copies of important documents and store them in waterproof, resealable, plastic bags. Be prepared to take them with you if you have to evacuate. This includes:
Birth certificates
Social security cards (which are required to receive FEMA assistance)
Marriage certificates
Immunization records
Wills
Military service records
Health insurance information
Home insurance information
Tax statements (proof of income might be required to receive certain levels of FEMA assistance)
If you own your home, property tax statements or a mortgage payment receipt (you will have to provide some proof of ownership of your home to receive FEMA assistance)
If you rent, a copy of the lease, a utility bill, or another document that proves the home or apartment was your primary residence (to receive FEMA assistance)
6. Handle urgent financial issues
Check the expiration dates on your credit and debit cards to ensure they are current in case you have to evacuate. The last thing you want is for your card to expire in the middle of a natural disaster. If you have any questions or concerns, reach out to your bank or credit union to let them know of your situation.
7. Service your vehicle
As soon as June 1st rolls around, consider bringing your vehicle in for servicing. An oil change, tire rotation, and new wipers are a must if you think you'll need to evacuate. Additionally, make sure you fill up on gas as soon as your hear of a storm approaching. Proactive and preventive maintenance will help you beat the long lines and avoid having to find a mechanic during the storm.
8. Check your insurance coverage
Before you take any practical steps toward protecting your home and property from impending storms, review your homeowner's insurance policy. Verify that damage from flooding and strong winds is adequately covered. If your policy seems to be insufficient, now is a good time to consider upgrading to a plan that will provide more extensive coverage.
Additional links for storm preparation:
Hurricane Preparedness | Tangipahoa Parish
Hurricane Preparedness | Ascension Parish
Hurricane Preparedness | St. Charles Parish
Hurricane Preparedness | St. John the Baptist Parish
Hurricane Preparedness | St. James Parish
Governor's Office of Homeland Security & Emergency Preparedness
Source: FEMA
Like this article? Subscribe to our blog and receive weekly articles that will help guide you toward the best financial decisions for your unique situation.