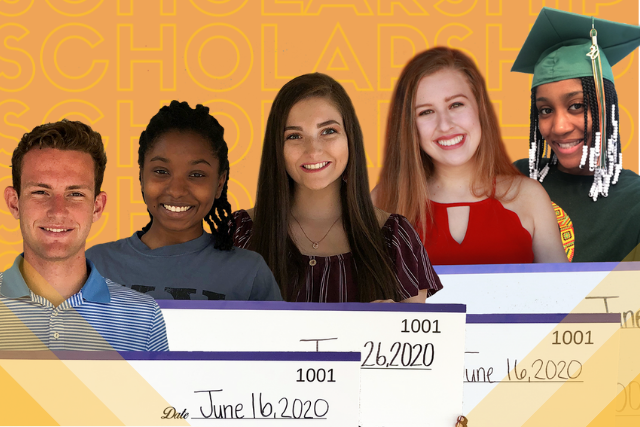 Louisiana FCU is excited to announce the recipients of its annual Ronald E. Thomas Memorial Scholarship. Five graduating seniors in southeast Louisiana were chosen by the credit union to receive $2,000 each.
The scholarship, named for the late Ronald E. Thomas, who served as a Louisiana FCU board member for more than 65 years, recognizes graduating high school seniors who demonstrate outstanding leadership and altruism in the community. Louisiana FCU expanded the scholarship program in 2020 to recognize five students in local communities. In total, the program awarded $10,000 in 2020.
The scholarship honors the late Ronald E. Thomas for his local and national contributions to the credit union movement.
"We are so thrilled to see young people in our communities not only working toward their personal goals, but also giving thoughtful consideration about what they need to achieve long-term financial success," said Rhonda Hotard, President and CEO at Louisiana FCU.
The R.E.T. Memorial Scholarship has been a core part of Louisiana FCU's mission for 30 years. The program serves as a small way to help alleviate the financial pressures higher education puts on families, so that local students may focus on academics and their career goals.
"College gets really expensive, especially these days," said Jackson Stumbo, 2020 scholarship recipient. "This scholarship will be really useful."
Meet the 2020 Ronald E. Thomas Memorial Scholarship recipients

Jordan Brignac is a graduate of Lutcher High School, where she led an active academic life tutoring students after school and often working through lunch on projects for BETA and Student Council. Jordan dedicated her time to 4-H projects that gave back to the community, such as food and clothing drives. The best advice Jordan received about money is that it is OK not to spend every dime just because it is readily available to you.

Jenna Necaise is a graduate of Riverside Academy where she assumed leadership roles as Class President, Student Council President, FCA President, Mu Alpha Theta Treasurer, and Beta Secretary. Outside of the classroom, Jenna was the Teen Miss Fishermen's Festival V and the Teen Andouille 2018. She traveled the state of Louisiana representing St. John Parish and volunteering hundreds of hours to various causes. In 2019, she received a key to the parish for her great work and contributions to St. John. Jenna's goal in life is to help others who can't help themselves and hopes to one day be able to educate women in third-world countries.

Jackson Stumbo is a graduate of Hahnville High School in Boutte. During his sophomore year of high school he and his family moved across the country from California to Louisiana. Jackson adapted to the challenge by becoming involved in the community through volunteering, leading as President of Future Business Leaders of America and Spanish Honors Society, and lettering in Varsity baseball for three seasons. Jackson will be attending LSU to pursue a career in chemical engineering.

Juliette LeRay is a graduate of St. Thomas Aquinas High School, where she held leadership positions including Beta Club President, Swim Team Captain, Key Club Secretary, STA Student of the Year, Tangipahoa Library Young Woman of Excellence, KC Catholic Youth Leader, National Junior Honor Society Secretary, LA Girls State Citizen, LASC Junior Counselor, Apex Leadership Delegate, and Student Council Class Representative. She has volunteered hundreds of hours of service through North Oaks Rehabilitation Center, Campus Ministry, Key Club, Uniforms for Kids, Tangi Food Pantry, and Education/Community Outreach ballet performances.

Tiara Jones, a recent graduate of Benjamin Franklin High School in New Orleans, is an intelligent, determined, and outspoken young woman who advocates with passion. As the oldest of three children living with a single mother, she is a role model for her younger siblings and takes on a lot of responsibilities at home. Tiara is a writing lab tutor, an advocate for the working class alongside Project Butterfly New Orleans, an environmentalist that educates the public as a volunteer at Audubon Zoo, and a student ambassador for College Track New Orleans. The best advice she ever received about money was from her mother. She told her to invest in what she needs before giving into whims of what she wants.