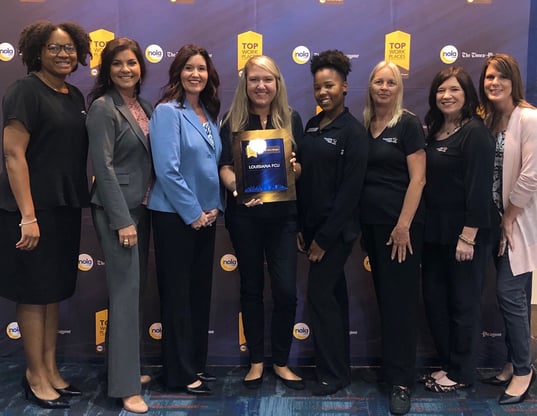 Louisiana Federal Credit Union has been named one of the Top Workplaces in the Greater New Orleans Area by Nola.com/The Times-Picayune for a fourth consecutive year.
The Top Workplaces list is based solely on the results of an employee feedback survey that measures several aspects of workplace culture, including alignment, execution and connection.
"We are thrilled to be named a Top Workplace for the fourth year running," said Rhonda Hotard, President/CEO of Louisiana FCU. "We take great pride in creating an environment where employees can work alongside enthusiastic, like-minded people in a vibrant atmosphere that provides real opportunities for growth."
Louisiana FCU embraces the philosophy that employees should work together to benefit members financially while achieving their own personal and professional fulfillment along the way. They call it "living their WHY."
The approach has proven to be a win-win for staff and members alike.
"We've received a number of industry awards, as well as emails from our members and business partners praising our quality service," said Hotard. "The truth is, people can buy financial products anywhere, but what they can't get elsewhere is the talent from a team that pays attention to the little things, demonstrates pride, and lives our tagline: 'Helping you get there.' Our employees are the core of everything we do right."
Here's what Louisiana FCU employees are saying about working here.
"I love working for Louisiana FCU because we get the opportunity to educate our members. We get to provide them with the resources needed to live life. I personally love working here because of the work-life balance!"

- Nathan Villa, Loan Officer


"Louisiana FCU is an awesome workplace because we truly care about people and what matters most to them."

- Cathy Kimble, Vault Teller

"Working at Louisiana FCU is like working with family. I choose to work here because of my caring co-workers. If I am having an off day, even if I try to hide it, I can be sure that one of my family members (co-workers) will notice and be there to help cheer me up."

- Lakia Brown, Collections Representative

"Working at Louisiana FCU was a goal of mine for a long time. I knew that they take very good care of their employees and offer lots of growth opportunities. I've been with the credit union for more than a year now and they have not disappointed! The care that is given to us shines through daily and I couldn't be happier with my choice to work at Louisiana Federal Credit Union."

- Meg Foster, Receptionist

"I've loved Louisiana FCU since day one. Definitely a great place to learn and work with amazing people. It's a family atmosphere where everyone respects one another. Our mission, vision, and strong values combined with our unique culture of hard work is hard to beat!"

- Yesica Ramirez, Teller