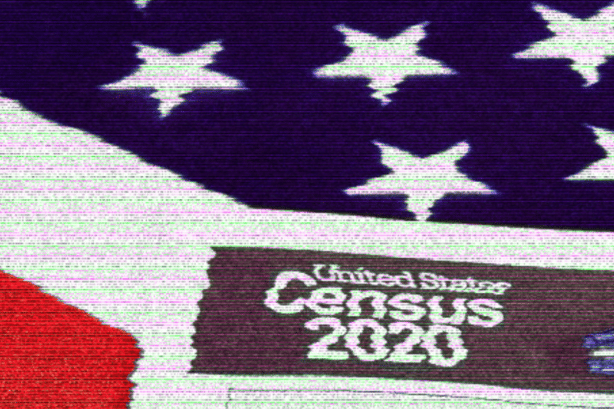 Every 10 years, the Census Bureau makes an effort to count every person living in the United States. The census helps to determine if our region is receiving adequate funding from the federal government.
The process is important — but it's also invasive. Census questions range from "what's your household income" to "how many televisions do you own?".
Due to the sensitive nature of the survey, the Federal Trade Commission (FTC) issued a warning that scammers may exploit the process to steal your information.
Only 5% of the population is visited by a census worker. You're more likely get your invitation in the mail.
What's the purpose of the census?
The U.S. Census is conducted every 10 years to help paint an accurate picture of modern-day America. Participating in the census is in everyone's best interest, for many reasons:
The federal government uses census numbers to divvy up $675 billion in federal funds toward community programs and services, like education programs, housing and community development, health care services for the elderly and job training.

The local government uses census information for funding new school construction, libraries, highway safety and public transportation systems, new roads and bridges, location of police and fire departments and many other projects.

Community organizations use census information to develop social service programs, community action projects, senior lunch programs and child care centers.

Businesses use the numbers to make material decisions that promote job creation and help to grow our economy.

The U.S. Congress uses the census totals to determine how many seats a state will have in the U.S. House of Representatives. States use the numbers to allocate seats in their law-making bodies.

Scientists use census data to understand the distribution of diseases and health concerns such as cancer and obesity across the United States population.



How will I be approached to take the census?
The US Census Bureau's goal is to count the entire population through online communication, traditional mail or phone call.
You will likely receive a census invitation in the mail, along with 95% of the country. Only 5% of the population is visited by a census worker.
Households that do not respond to the invitation delivered via mail will receive reminder letters, postcards, and questionnaires until they do respond. If they still have not participated in the census by May 2020, the household will be visited by a census worker, who will count them in person. If no one answers the door when they come by, the census worker will leave a door hanger with a phone number for the household residents to call for scheduling another visit. The census worker will continue trying to reach the household personally, or by phone, up to six times.
What kind of questions will the census ask?
The census questionnaire primarily focuses on the number of people living in your household. You'll be asked to list each household member's sex, age, race, ethnicity, relationships to the other residents, phone number and whether you own or rent the home. There will not be a citizenship question on the 2020 census.
How can I determine if a census worker is actually a scammer?
There are a few red flags that give scammers away.
The most suspicious behavior a census fraudster can exhibit is asking intrusive and inappropriate questions. Avoid revealing personal information to a scam artist by knowing what questions census workers are allowed to ask.
A census worker will never ask you:
If you are a U.S. citizen
For your full Social Security number
For credit card numbers or checking account information
For a donation
To pledge your support for a political party
For personal information, such as your mother's maiden name or the name of the elementary school you attended
You can easily verify a census worker's legitimacy by asking to see his or her required photo ID. If someone comes to your house, they should always have a valid U.S. Census ID badge. An authentic ID displays a U.S. Department of Commerce seal and an expiration date. If you don't see that, they aren't from the Census Bureau.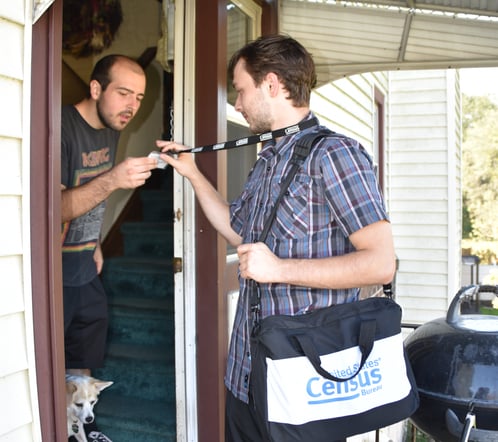 Always verify that your census taker has a valid ID badge with their photograph, a U.S. Department of Commerce watermark, and an expiration date.
If you're still feeling doubtful, ask for their supervisor's contact information. You can also call the census regional office phone number to verify your census worker's authenticity. If the census worker acts irritated or tries to rush you, that's a huge warning sign. Scammers famously use fear and urgency to bully their victims into action, so you don't have time to ask for help or think things through. No legitimate census worker will rush you to fill out the survey.
A scammer might try to reach you by phone. By using caller ID-spoofing technology, it may appear as if they are actually calling from the Census Bureau. A census worker will not call you unless you've failed to respond to several mailed invitations. Be wary of any suspicious questions being asked over the phone. If you have reason to believe you are speaking to a scammer, hang up immediately.
2020 will be the first census to allow all U.S. households to respond online. If you go this route, make sure the web address starts with https and end with .gov. The site should have both if it's legitimate.
What to do if you're targeted by a census scammer.
If you suspect fraud, call 800-923-8282 to report the incident to a local Census Bureau representative. You also can file a report with the FTC. Your reports will help law enforcement agencies stop the scammers from committing additional crimes.
Awareness and vigilance is one of the strongest defenses against fraud.
Keep a closer eye on your account activity. Add an extra layer of fraud detection to your finances with the MyCardRules app. It's 100% free and gives you the power to shut off your Louisiana FCU card at any time.
Sources:
https://people.howstuffworks.com/census.htm
Like this article? Subscribe to our blog for more great insights about living your best life.