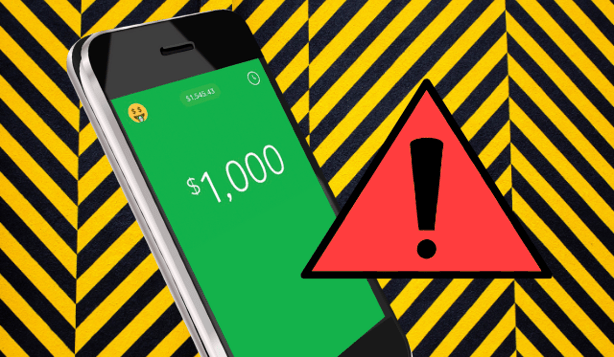 Payment apps offer us a safe and easy alternative to traditional payment methods during the coronavirus outbreak. Unfortunately, scammers are using these apps to cheat people out of their money.
Here's all you need to know about payment app scams and how to protect yourself from becoming a victim.
How the scam plays out
In this trending scam, a payment app user is invited to participate in a contest on Twitter or another social media platform. The host of the contest claims to be giving away a bundle of cash to one lucky winner to "help them through the economic downturn caused by COVID-19." Scammers use keywords like #coronavirus and #emergencyfunds to make their social media posts appear authentic.
Upon entering the contest, the victim receives a message that they've won the giveaway and will need to pay a small fee to verify their account and claim their cash prize. Thrilled to be the winner and suspecting nothing unusual, the victim gladly pays the fee and waits for their big payday. However — the money never comes, and the fraudster disappears with the victim's so-called "fee payment."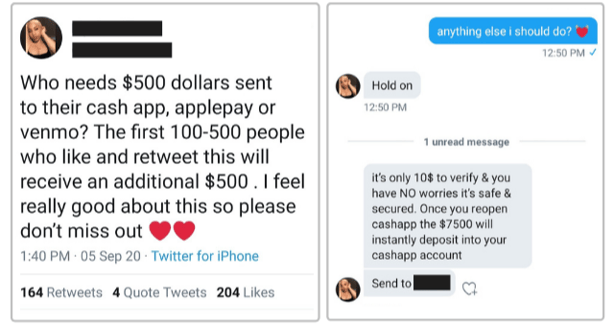 In some cases, the contest may actually be authentic and the scammer poses as the organization running the giveaway.
Sometimes, the victim has not entered any contests but receives a message appearing to be sent directly from the payment app informing them they've been randomly chosen to win a cash prize — with a small processing fee attached, of course.
Scam artists may even take it a step further. There have been cases where, after asking the victim to send the fee through a mobile payment app, the scammer hacks the victim's linked account or credit card to makes expensive purchases with the stolen information.
The scam can be pulled off through any payment app, but is especially popular with Cash App users who are familiar with the app's Cash App Fridays. To an unsuspecting victim, the freebie can seem like a new addition to one of the app's many giveaways.
Payment app scams are most commonly found on Twitter, a platform buzzing with legitimate giveaways and contests. Twitter's retweet culture makes it easy for scammers to find contests and target users that are publicly participating.
"This behavior is absolutely against our rules and outlined as such here," Twitter spokesperson Lauren Alexander wrote in an email. "Users who see such scams should go to the 'Suspicious and Spam' category to report the scam."
How to protect yourself from cash app scams
The good news is, you don't need to give up on mobile payment apps just yet. You can protect yourself from this scam by learning how to recognize red flags.
Here's what you need to know about Cash App and other mobile payment apps:
Cash App will never ask customers to send it money as a "processing fee" or for "verification."
Cash App will not ask users to share their PIN or sign-in code outside the app.
Cash App currently has only two official Twitter accounts, @cashapp and @cashsupport, both of which have blue, verified check marks. If you receive a tweet from another account appearing to be from the app, it is likely bogus.


If a post or tweet looks suspicious, don't take any chances. Ignore it and move on.
If you believe you have fallen victim to a mobile payment app scam, contact the app's support through the app or website. If the scam is reported early enough, they may be able to reverse the transaction. You can also report the scam to the FTC at ftc.gov and let your friends know about the circulating scam so they don't fall victim to it themselves.
Mobile payment apps make transferring money easy, but they also make it easy for scammers to con you out of your hard-earned cash. Stay alert and practice caution to keep your money safe.
Like this article? Subscribe to our blog and have great financial insights delivered to your inbox weekly.