Have you recently received a text from a wrong number? Well, it's probably a scam.
The Better Business Bureau (BBB) warns that scammers are using bogus "wrong number" messages to trick victims into leaking their personal information.
How the scam works.
To start, you'll receive a text from a wrong number. The message could say anything, but it's usually something romantic or urgent.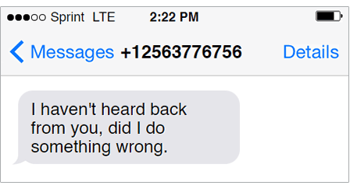 You may feel tempted to let the sender know they texted the wrong number, because you're a good person and you'd hate for such an important message to go undelivered to the person it's intended for.
Once you do this, the stranger will continue the conversation, responding with something like "who's number is this?". It may seem innocent, but what's happening is that the con artist is trying to get personal and intimate information out of you, which they then use to manipulate you into giving them money.
Depending on the nature of the scam, they may also flirt with you and encourage you to sign up at a specific website to see explicit photos, which may involve offering up your credit card number.
What to do when you get a text from a wrong number.
If you receive a text from a stranger, your best move is to ignore it.

According to the BBB, if you engage with a scammer, even briefly, they will mark your number as active and you could receive even more shady texts in the future.
You should also block the number to prevent the fraudster from contacting you again.
How to keep your information safe.
Never give your personal information to strangers. Never share your credit card or banking information, your full name, home address, or social security number with someone you never met in person. Remember that any photo you upload on social media can be stolen and used by a scammer.
What to do if you fall victim to this scam.
If you've been the victim of a text message scam, report it at BBB.org/ScamTracker. Your report can help expose scammers' tactics so others won't fall prey.
If you have compromised your personal information, you can report the incident to law enforcement and the Federal Trade Commission.
If you found this article helpful, subscribe to our blog and have weekly financial insights delivered to your inbox.