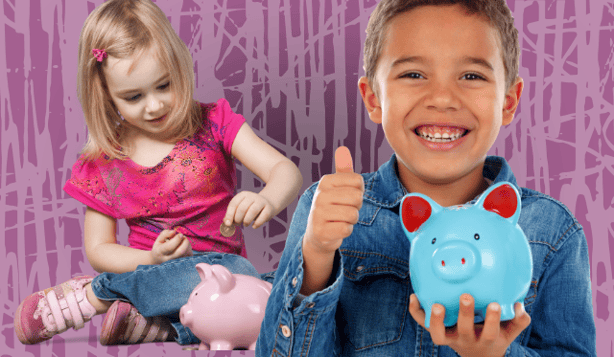 Millions of children are at home amidst the coronavirus outbreak, turning many parents and caretakers into interim homeschool teachers until mid-April. We encourage all parents to use this time to teach your kids about the one thing they'll never learn about in school: Money.
Teaching financial skills to your children is as vital as schoolwork. Unlike math, English or science — personal finance is an at-home curriculum that kids learn by watching mom and dad. With the kids at home, there may be no better time to introduce practical financial lessons to your children. By using this social distancing period to give your kiddos a sound financial education, you'll be teaching them invaluable lessons that will stay with them into adulthood.
Here are some fun ways you can teach your kids about money during the COVID-19 quarantine.
Play money-themed board games
Classic board games, like Monopoly, Life or The Allowance Game, can make learning about money fun. They also teach youngsters important life skills, like purchasing real estate and saving up for retirement.
Go pretend shopping
If you've ever seen your child pampering dolls, then you know how much kids like mimicking grown-ups. Encourage this kind of play by opening up a pretend grocery store in your house, complete with food, prices, money, and toy cash register. Switch between letting them be the customer and the store owner. Simulating the real-life act of shopping can be a useful tool in teaching young children how to add up and manage prices. It also lets your kids experiment, ask questions and put their own theories to action. Fingers crossed that their imaginary store has enough toilet paper in stock.

Play online
Online games are an easy, fun way for kids to grasp basic money concepts. Our Money Mammals Club is one of the most engaging materials available on the market today. Kids of all ages can earn badges and embark on quests that teach them how to share, save and spend smart.
This free, teaching guide is chock-full of activities that help provide lessons in financial literacy for kids in the early elementary classroom.
Play video games
Despite popular belief, not all video games are violent and brain-rotting. In fact, many modern games promote strategic thinking about spending and saving. Animal Crossing, a mega-popular game on the Nintendo Switch, simulates daily life on a charming island village. The game lets kids take out a home mortgage and continue to pay off and accumulate debt while carrying out various activities such as fishing, bug catching, and fossil hunting. Roller Coaster Tycoon, a game about building and running an amusement park, helps young players to hone their skills in resource management and budgeting. Many action-adventure and RPG games like The Elder Scrolls, Minecraft, and World of Warcraft give young people their first taste of financial decision-making. Just make sure you check the age rating first.
Help them reach a goal
Ask your kids to write down all the things they want and have them rank each. Set a date for when they hope to have it (e.g., their first day back at school or the beginning of summer break). Help your child set up a plan for what they need to do to get the money (and how to save it). Not only does this teach your kids how to prioritize purchases, it gets them budgeting ahead of time for items they want.
Teaching your kids about money doesn't have to be a chore. By turning a complex topic into a fun activity, you can spark the learning that starts to happen when kids become engaged with the topic of financial literacy.
Like this article? Subscribe to our blog and have great financial insights delivered to your inbox weekly.