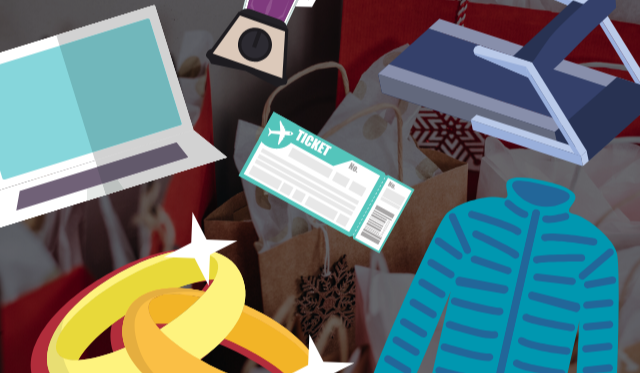 Before you brave the crowds on Black Friday, understand that not everything is a steal. Here are the items you should look to buy (and avoid) on the best shopping day of the year.
Skip: Large home appliances
While you may find markdowns on large household appliances like dishwashers and refrigerators, the reality is you'll find even better deals on other holiday weekends throughout the year. Save these items for Memorial Day, Labor Day and President's Day. If your appliance is still working well and you're just looking for an upgrade, you're better off saving your purchase for a later date.
Buy: Small home appliances
You can score fantastic Black Friday deals on small household appliances like coffee makers, toaster ovens and blenders, which may see discounts of up to 65%.
Skip: Jewelry
If you're planning on buying a special someone a gift that truly sparkles, don't buy it on Black Friday. While some jewelers offer slight discounts on their bling after Thanksgiving, prices on jewelry will fall significantly in December and even further in January. If you're not in any rush, you're better off waiting until July, when jewelry prices are at their lowest point of the year thanks to the usual summer slump.
Buy: Electronics
Crazy-low prices on electronics are a Black Friday basic. In recent years, supersized TVs were marked down by several hundred dollars by retailers like Walmart and Amazon. Discounted Apple products are another Black Friday favorite, with shoppers waiting for this day to buy their MacBooks, iPhones, iPads, Apple Watches and Apple TVs.
While you might find fantastic bargains on electronics this Black Friday, be sure to read the fine print before finalizing purchases. Some deals may require you to sign up for a pricey phone plan to qualify for the purchase. Others may depend on a store gift card to net you the full bargain; if you don't typically frequent this store, it may not be such a great bargain after all.
Skip: Toys
Don't count on finishing up the gift-shopping for the little ones this Black Friday. You'll get much better prices on toys and children's games in the weeks leading up to Christmas when the shopping season is already winding down and retailers are looking to clear out inventory.
Buy: Online door busters
In an effort to attract customers, major retailers historically offer impressive Black Friday door busters. Many stores have recently started offering these deals online as well, so there's no longer a need to camp out Thanksgiving night in Walmart's parking lot to get the best picks, or fight your way through crazed crowds. You can now shop at your leisure from the comfort of your home. The best items will still get grabbed quickly, so be sure to move fast!
Skip: Fitness equipment
It's always a good season to stay fit, but in the world of retail, the prime season for fitness equipment is January, when New Year's resolutions are still fresh and relevant. Hold off purchasing exercise gear until after the holidays for a better deal. You'll score even steeper discounts if you wait until February, when the post-holiday inspiration for getting into shape starts wearing off and prices start falling.
Buy: Travel deals
If you plan on traveling for the holidays, look for markdowns on airfare, hotel reservations and car rentals. Make sure to check popular travel sites multiple times over the weekend, as the best travel deals are usually only live for a limited time.
Skip: Bedding
Is your bedroom in need of a face lift? You'll have to wait for January's legendary "white sales" for the year's steepest discounts on bedding and linens.
Buy: Video games
If you have a gamer on your holiday gift list, you can find discounted video games and console bundles on Black Friday. Find deals on the newest games at the big-box stores and online at Playstation.com, Nintendo.com and Xbox.com.
Skip: Winter clothing
You'll see lots of splashy sale ads from your favorite clothing stores in the days leading up to Thanksgiving, but these are typically modest markdowns of 30% or less. For the real steals on winter apparel, you'll have to wait until the calendar hits January.
Now that you know what to buy and what to skip this Black Friday, you can hit the stores knowing you'll walk away with the best deals.
Like this article? Subscribe to our blog and have great financial insights delivered to your inbox weekly.