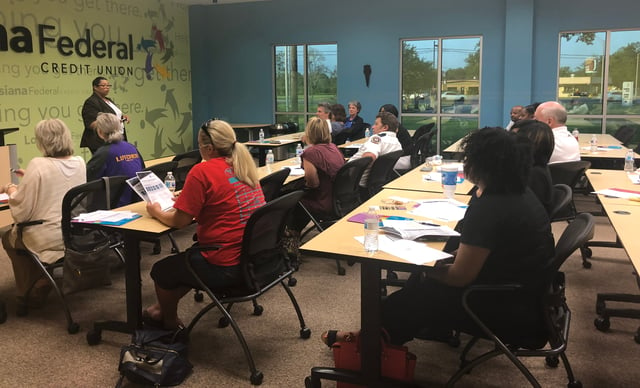 Preparing for college can be a hard task for parents and the graduating senior. Understanding how difficult this process can be, Louisiana FCU partnered with Bambilyn Smith, Financial Literacy Case Manager from St. John United Way Financial Coaching and Education Program, to present the best ways to prepare for college. Here are our key takeaways from the workshop:
Planning for college is similar to setting a budget. Following that budget will help you to achieve your goal. It is important to start as early as ninth grade. Your cumulative grade point average (GPA) is what matters most and by 11th grade, you should be taking the ACT. All of these things contribute to what type of funding is available to you and will determine how much funding is available to you. It is important that your budget is realistic. The goal is to get your education. Here are six steps to take when preparing for college:
Step 1. Define your "why".
It is important to know why you're going to college in the first place. Is it to further your education? To be self-sufficient? To live your dreams? Understanding why you're going to college and what you're interested in will help you to keep focus as your pursue your degree.
Step 2. Find out what college is right for you.
Determine beforehand if you're going to a two-year or four-year college. Some students have their heart set on the college of their dreams, but it is important to know whether or not that school has the program they're interested in and if it will work with their budget. If you can find a school that offers the same program at a more affordable price, it would benefit you to shift your focus there.
Step 3. Determine if you're eligible for financial aid.
In the state of Louisiana, all graduating seniors are required to fill out a Free Application for Federal Student Aid (FAFSA) in order to graduate and you can start as early as October 1. Federal student aid comes from the U.S. Department of Education and helps students pay for higher education. There are main categories for federal student aid:
Pell Grants: A Pell Grant is money the government provides for students who need it to pay for college. Grants, unlike loans, do not have to be repaid. Eligible students receive a specified amount each year under this program. In order to receive grants, your FAFSA must be filled out each year.
Work-Study: The Federal Work-Study Program, originally called the College Work-Study Program, is a federally-funded program in the United States of America that assists students with the costs of post-secondary education. The Federal Work-Study Program helps students earn financial funding through a part-time employment program.
Student Loans - A student loan is money the government provides to students who need to pay for college. This type of financial aid must be repaid.


Utilizing one of these options can help you with you to establish a budget for college. You can send your FAFSA the college of choice once you complete the application. FAFSA does not cover remedial courses. Some of these financial aid option will leave the student with a refund for themselves. The federal deadline for the 2018 -2019 school is June 30, 2019. Visit www.fafsa.gov to get started.
Step 4. Know if you want to attend an in-state or out-of-state college.
With some colleges, there are additional fees for out-of-state students. Some of those fees may include increased tuition for residence halls, off campus housing expenses, travel, transportation, parking passes, and airfare or gas for semester breaks. You will want to include these expenses in your budget.
Step 5. Find out the admissions requirements.
Knowing what the admissions requirements for the college you plan to attend is key in your preparation. Almost all four colleges specify certain educational background requirements. Be sure to find out if your degree program requires any additional pre-requisite coursework.
Step 6. Be realistic.
Don't set yourself up for failure. After you've completed steps one through five, review your plan and ask yourself if it is realistic. Find out where you can cut some expenses and save more money. Ask yourself, do I need a meal plan? Should I live on campus or with my parents?
Bonus. Look for scholarships!
Scholarships are another option to help with your budget for college. Scholarships can be used in addition to any student aid you will receive. Students should start applying for scholarships as early as ninth grade. Here are a few resources to help with your scholarship search:
Scholarships.com - Scholarships.com helps students to find money for college as well as learn about the entire financial aid process.
UNCF- The United Negro College Fund, also known as the United Fund, is an American philanthropic organization that funds scholarships for black students and general scholarship funds for 37 private historically black colleges and universities.
Your Credit Union - Each year, Louisiana FCU awards one graduating senior with the Ronald E. Thomas Memorial Scholarship. This is a $2,000 cash scholarship that can be used to any of students expenses.
If you or anyone you know is graduating soon, share this article with them and be sure to look out for our scholarship next year.