UPGRADE YOUR WALLET IN FOUR SIMPLE STEPS.
EXPLORE THE BENEFITS OF OUR CREDIT CARD
APPLY FOR YOUR CREDIT CARD
STEP 1: EXPLORE THE BENEFITS
Earn one point for every dollar you spend with the Platinum Rewards MasterCard. Enjoy the 0%APR introductory rate for the first 12 months with the card that keeps on giving.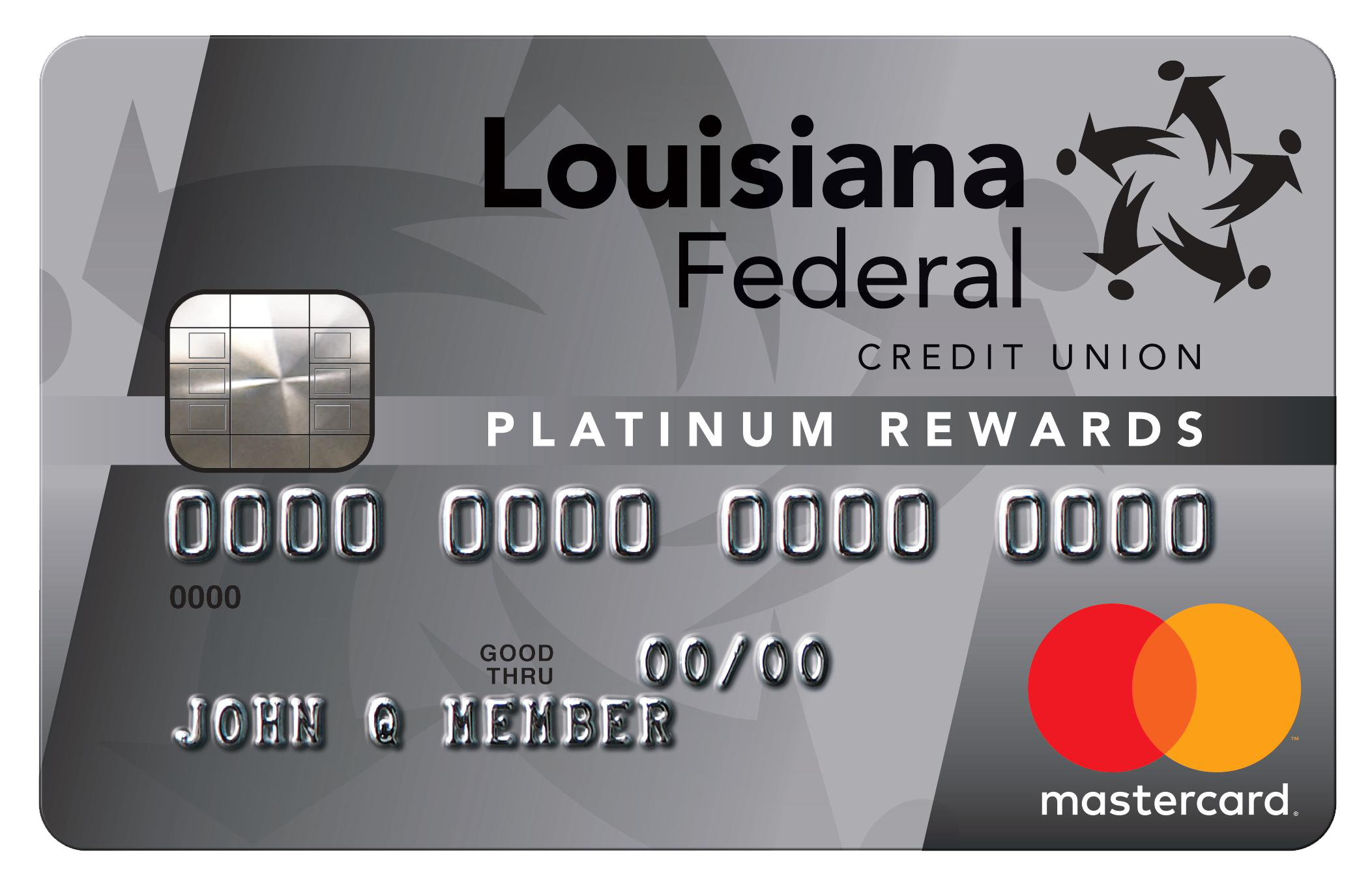 The Platinum Rewards MasterCard Features:
Instant issue credit card at your local branch

No cash advance fee - EVER

No balance transfer fee - EVER
YOU DESERVE A CREDIT CARD WITH LOW RATES AND HIGH REWARDS
0% INTRODUCTORY
APR* FOR 12 MONTHS
EARN REWARDS AND POINTS
WITH PAY WITH REWARDS
STEP 2: CONVENIENTLY COMPARE.
PLATINUM REWARDS




RATES AS LOW AS
7.90% *
PLATINUM STUDENT ADVANTAGE REWARDS



RATES AS LOW AS
0.0% APR*
GET ANSWERS TO FREQUENTLY ASKED QUESTIONS ABOUT OUR CREDIT CARD.
Will my credit card work when I travel out of state/out of the country?
Absolutely. If you are traveling, please contact our Account Services Team with your travel dates and destinations. We will place a note on your cards alerting our Fraud Center that you are traveling. This will lift out-of-state/out-of-country restrictions so that you can use your Louisiana FCU credit card with zero issues.
If I don't pay off my credit card balance after three months, will I be responsible for any interest charges that accrued during the introductory period?
Nope. We aren't sneaky like that. We do want you to know that after your three-month introductory period, the prevailing APR will be applied to your outstanding credit card balance. In short, you won't accrue interest until 90 days after you open your credit card account.
How do I redeem my rewards?
*The Introductory Annual Percentage Rate (APR) for purchases, balance transfers and cash advances will apply to transactions posted to your account during the first 90 days following the opening of your account. Any existing balances on Louisiana FCU loans or credit cards are not eligible for the Introductory APR for balance transfers. This offer does not apply to business, student and secured credit cards.