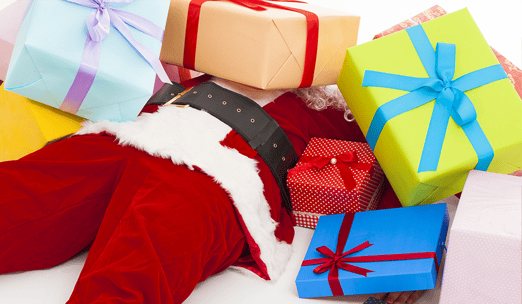 Here are a few tips to help you avoid getting overwhelmed this holiday season.
Make your list now.
Whether its names or specific items, list them in order of your highest priorities and don't be hard on yourself its shorter than usual this season.
...and check it twice.
Now that your list is prepared, keep it handy. Next time you are at the store, add one or two items to your cart that will check off a name or gift on your list. These can be stocking stuffers or larger items when your budget allows. The idea is to spread out your holiday spending so that it doesn't feel like a large strain on your spending all at once.
Cut back on the decor.
Try making some ornaments or home decor yourself or reuse a theme from a few years ago. You may have some family heirlooms or new items that you forgot were tucked anyway somewhere.
Prioritize thoughtful gifts over pricey gifts.
Give practical or handmade gifts to extended friends and family. Your grandparents may enjoy a container of homemade fudge just as much as they would a new picture frame. Perhaps your in-laws have been putting off getting a new cutting board, this Holiday could be the ideal time to get them something practical that they'll actually use.
Seek out discounted gift cards.
The gift card rack at wholesale stores like Costco and Sam's Club is one of the best money-saving opportunities out there. Many of the gift cards at Costco and Sam's Club are sold at a discounted rate. Retailers also tend to divide the total value into smaller amounts per card. For instance, $25 to your favorite coffee shop could cost you closer to $20 and give you five $5 gift cards. This could be a perfect gift solution for school teachers or coworkers.
Skip the gift wrap.
Sure, kids love it and it's the act most associated with Christmas morning, but the adults in your life are probably less concerned about the paper and more honored that you thought of them. For these gifts consider tying it in a ribbon or repurposing a basket or glass jar to already have.
Be gracious.
If you receive a gift from someone you weren't prepared for or didn't budget for on your list, don't panic! Be gracious and thankful and perhaps remember their kindness on their birthday or at the next holiday gathering. Purchasing last minute gifts may be the last straw that keeps you from staying on budget moving into the new year.
Making a few small swaps or reductions to your Holiday traditions may seem nerve racking but even one of these tips could help you focus more on what's truly important to you and your family this year.
If you're feeling the strain of seasonal spending, a Holiday Personal Loan can help add a little flexibility to your budget. It can be used toward gifts, traveling, family gatherings, social events, or anything, really. With fixed payments, you'll know exactly how much you owe each month. Instead of agreeing to every high-interest mall credit card thrown your way, consider using a personal loan to fund your festivities this holiday season.

Like this article? Subscribe to our blog and have great financial insights delivered to your inbox weekly.