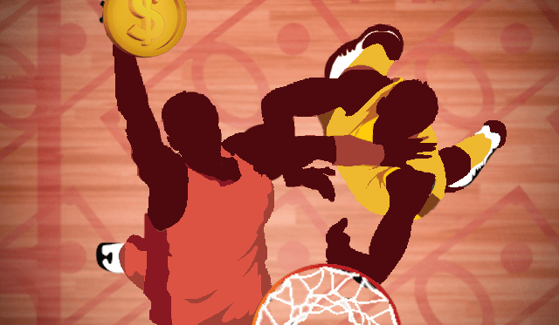 Basketball and budgeting have a lot more in common than you think.
With March Madness right around the corner, here are some surprising lessons basketball can teach you about money management.
Lesson 1: Discipline breeds success



Kevin Durant once said, "Control of your destiny begins with control of yourself."
From grueling training sessions to early-morning workouts, basketball requires an endless amount of self-discipline. Athletes must learn to ignore distractions and devote themselves completely to the game to reach the top.
For example, 3x NBA champion Andre Iguodala spends his off-season perfecting his craft with "intense game-like" shooting practice, requiring himself to make at least 500 shots.
Miami Heat Forward, Jimmy Butler, wakes up at 4:00 a.m. every day for a workout that involves shooting a 10-pound medicine ball like a basketball, catching 45-pound weights by his side, bridges, planks, an ab workout, then 1,000 jump shots — all before breakfast.
Speaking of breakfast, legendary baller and all-around GOAT, Michael Jordan, led an infamous pre-practice routine that many believe set the foundation for his six NBA championships. Dubbed "The Breakfast Club", Jordan's morning training regime consisted of serious strength training and weights, followed by a nutrient-rich meal to promote recovery and muscle gain, capped off with the regularly scheduled team practice.
For these players, practicing and training daily helped them to become better athletes and gain a better understanding of the game.
Training yourself to be disciplined with money is the key to a lifetime of financial wellness. Being financially fit is about more than just having enough money in your account. In fact, managing money responsibly can spawn positive effects in many areas of your life.
Marriage. Money has the potential to bring any solid marriage to it's knees. According to AARP, financial problems are the second leading cause for divorce in the country. One study

even revealed that money is the most common trigger point for arguments among couples.

Mental health.

Money stress can severely affect your mental health, causing depression, restlessness, anxiety and more.

Physical health.

Stressing over finances can also directly impact your physical health, leading to recurring symptoms like headaches, fatigue, upset stomach, insomnia, high blood pressure and an increased risk of heart disease and stroke.

Work life.

Being bogged down by money worries can make it difficult to focus while at work, which can bring down productivity levels and hamper career growth. Prospective employers tend to review the financial wellness of new hires as part of their background checks; high rates of debt and a poor credit score can cost you a good career opportunity.

Parenting.

Managing your money irresponsibly as a parent could threaten your ability to pay for your child's education, private lessons, medical needs and more.
Much like physical conditioning, saving money is where you put in the work.
When Sports Illustrated asked Michael Jordan about his old Breakfast Club routine, MJ recalled, "(It) was a mindset more than a workout."
It's hard to set aside your financial vices. But with a bit of self-discipline and willpower, you can send your bad habits to the showers for good.
Lesson 2: Endurance wins games



In 1991, the Richmond Spiders became the first No. 15 seed to win a game in the NCAA Tournament, scoring a massive underdog victory against the Big East regular-season champion, Syracuse.
"I stressed to my players, it isn't necessarily the better team that wins," said Richmond's head coach, Dick Tarrant. "It's the team that plays better basketball in that 40-minute time frame. If you can play real good ball between tipoff and the finish, you can beat much better teams who are bigger, stronger, faster."*
Richmond's stunning victory is a lesson in perseverance. By staying the course and playing hard for all four quarters, they defied the odds and silenced all who doubted them.
We've all had that moment of clarity where you suddenly think "I can't keep spending like this." In that moment, it's up to you to determine if your season of financial responsibility is going to last one quarter, or until the final buzzer. Is this a short-term urge... or turning point in your life?
Lesson 3: Set goals



The road to athletic stardom is long and full of hazards.
The same can be said about the road to personal wealth.
To help keep long-term goals within reach, college athletes often set smaller goals along the way. For instance, they might work on increasing their muscle mass one season and then focus on bringing up their speed the next year.
Setting achievable goals is equally important when managing your finances. Sure, it's nice to dream of acquiring your first million or buying a private island, but how realistic are these goals right now? How many years will it take to achieve them? It's better to set smaller, manageable goals for your money, such as saving up a targeted amount of money, putting away a specific percentage of your monthly income for the future or bringing your monthly discretionary spending down by 10 percent.
"I always set short-term goals," said Michael Jordan in his book I Can't Accept Not Trying. "Take those small steps. Otherwise you're opening yourself up to all kinds of frustration. All those steps are like pieces of a puzzle. They all come together to form a picture."
Just like Air Jordan, you can set small goals that work toward a big victory.
Lesson 4: Play to your strengths



When creating a championship-caliber roster, it's up to the coach to assess the roster and create a winning formula with the pieces that exist. Players' natural strengths and weaknesses are taken into account, and help the coach design a realistic, winning game plan.
The same approach can be applied to budgeting.
Before putting together any sort of financial plan, consider what you know about yourself.
It's scientifically proven that the human brain strongly dislikes saving money. If you suspect that you won't have the willpower to set cash aside month-after-month, consider using behavioral tricks to mask this weakness. For example, when you withdraw money from your savings account, it probably doesn't feel like much. But if open multiple savings accounts and assign names to them (like vacation, wedding, new car, etc.), the next time you take money out of savings, you'll feel like you're stealing from your future self. Withdrawing $200 from the account labeled "vacation" tricks your brain into considering what you're actually sacrificing when you withdraw from savings.
If the temptation to spend money from your savings account is too strong, protect yourself from yourself by putting the designated money further out of reach. Don't just hide the money inside your house. Instead, try opening an account that's more difficult to access.
A money market account limits how many monthly withdrawals you can make and gives you a slightly better rate than a traditional savings account.
A share certificate is great for goals that will take more than six months to reach. With this account you'll have restricted access to your funds, but see better returns in the long run: A reward for your patience.

Automatic transfers can also help take the tedium out of saving money, since the deposits are out of sight and out of mind.
Lesson 5: If you're losing, rebuild
In the early 2000s, Baylor University's basketball program was a legitimate dumpster fire. Their head coach faced drug allegations, a player was accused of murdering his teammate, student athletes were being paid under the table and the program was caught trying to cover it all up. The NCAA slapped Baylor with penalties so harsh, it would be a whole five years before they would ever post another winning record.
Nearly two decades after the scandal, Baylor basketball became first-time national champions against the sport's most elite program: Gonzaga. A Baylor program that was left for dead, focused on rebuilding and reached the highest level of success.
In June of 2003, Baylor had a player murder a teammate and a coach helped cover it up. In August of 2003, they hired Scott Drew. 18 years later they are National Champions for the 1st time in school history. SCOTT DREW HAS COMPLETED THE ULTIMATE REBUILD!!!!

— Ryan Connell (@Ry_Connell) April 6, 2021
It's hard to think positively about the future when you've dug yourself into a hole. But if Baylor could do it, you can too.
If high-interest debts are what's standing between you and a better life, it may be time to regroup and rebuild. Look into strategies like debt consolidation and refinancing to help spark your comeback.
Lesson 6: Study the tape



Athletes prepare for games beyond training sessions and practice runs. Before a scheduled game with an opponent, coaches will show their players videos of previous games they've played against that particular team. This way, the players can get an understanding of what they're up against, learn the other team's strengths and weaknesses and develop the best strategy to help defeat them.
In smart money management, there's no end to the ways you can build your knowledge. You can subscribe to financial blogs, watch videos or listen to podcasts on money topics that interest you. Use the knowledge you acquire to make smart decisions about general money management, your investment strategy and your long-term financial goals.

Like this article? Subscribe to our blog and have great financial insights delivered to your inbox weekly.