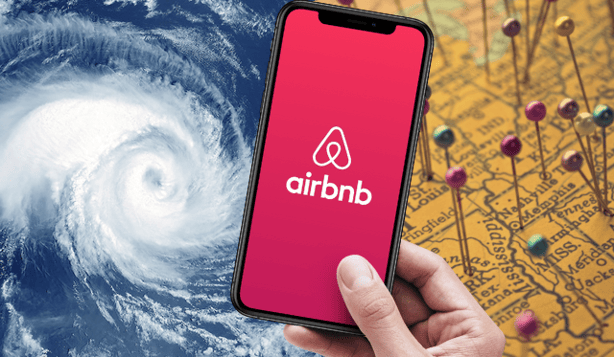 You never know when you'll have to evacuate. Vacation rental platforms like Airbnb and Vrbo are great tools for planning ahead.
By now you've likely heard of vacation rental apps like Airbnb and Vrbo. These apps let anyone with a spare room list their property for others to rent. Users of these apps can stay anywhere in the world and save quite a bit of money in the process.
While many in the U.S. only use these apps for vacationing, local Louisianans are finding utility in the apps' capability to identify and save potential evacuation routes. Mother nature can be unpredictable, so it's good to have a plan. After seeing hotels in Texas and Baton Rouge reach full capacity after Hurricane Laura in 2020, many view Airbnb as an affordable and less stressful alternative to chaotic hotel lodging.
Here's how you can use vacation rental apps to ensure a safe and affordable evacuation when the big one hits.
Getting started.
First, download the rental app of your choice and register for an account. Once you're registered, you can immediately start searching for listings that fit your evacuation needs.
Nearly every vacation rental app has a feature that allows you to bookmark locations that interest you and organize them into a folder for a specific occasion or trip. On AirBnb, this feature is called a wish list. On Vrbo, it's called a trip board. Use this feature to "favorite" locations that would best serve you and your family should you ever need to evacuate. By creating this board now, you'll save future-you a lot of time, energy and stress when a situation arises that requires you to pack up and leave quickly.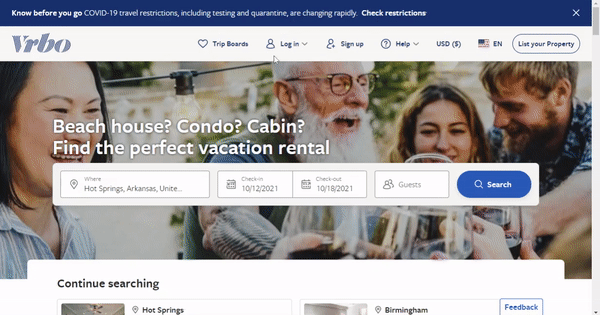 How to choose the right evacuation spot.
When creating your evacuation board, it's important to "heart" locations that are north, northwest and northeast of you — because you never know which way a hurricane is going to blow. By identifying numerous options, you can boost your chances of finding a good rental located in the opposite direction of where the storm is set to make landfall.
Keep travel distance and transportation in mind while planning. Hurricanes can appear in the Gulf without warning, leaving you with 72 hours or less to organize an evacuation. During this time, booking a flight may not be easy, so it's highly recommended you pre-identify safe havens that are within driving distance of your home. Travelling by car during an evacuation allows you to act quickly, make changes on the fly and generally gives you more control over you and your family's situation.
Locations within driving distance of Southeast Louisiana
| | | | |
| --- | --- | --- | --- |
| | 4 hour drive | 6 hour drive | 8 hour drive |
| ↑ | Monroe, LA | Memphis, TN | Batesville, AR |
| ↗ | Meridian, MS | Birmingham, AL | Atlanta, GA |
| ↖ | Shreveport, LA | Dallas, TX | McAlester, OK |

What to look for in a good evacuation rental.
To make the best of the situation, there are certain criteria you'll want to look for when identifying potential evacuation locations. Take advantage of the filter feature to narrow down your search to only list rentals that meet your specific needs.
Comfort and enjoyment. Just because your evacuation isn't technically a vacation, doesn't mean you can't treat yourself. Vacation rental apps feature tons of unique properties tailored solely for your enjoyment. Evacuating is stressful enough, so instead of squeezing your family into a tiny one-bedroom cabin, treat this like a getaway and bookmark locations that inspire you.
Pet-friendly. If you have a four-legged friend in the household, finding a pet-friendly rental is a critical part of planning. Simply filter your search by properties that allow pets, and you should see a long list of rentals that will happily accommodate your fur baby in addition to your family.
Space to accommodate. Think about how many people could potentially join you at your evacuation destination. Will your parents or in-laws be tagging along? Your friends? An elderly neighbor? It's important to find evacuation rentals with enough space to fit everybody. Otherwise, you may find yourself in an argument over who gets the private bedroom, or worse— you could end up bunking with your in-laws.
Dedicated work area. The pandemic completely normalized remote work. Which means that just because you're out of the office, doesn't mean you're off the grid. If your company relies on you to be available during storm closures, it's important to identify places that offer a comfortable and quiet workspace in case you are needed. To search for work-friendly locations, look under "amenities" in the search filter pop-up and check the boxes next to "wifi" and "dedicated workspace." Having a designated space to work will help you get things done quicker and more effectively, without the distraction of kids, pets or spotty internet.
Positive reviews. Every now and then you'll see a listing that uses the power of camera angles and lighting to make it appear more attractive than it actually is. Deceptive advertising on AirBnb and Vrbo is not an overwhelming problem, but it does exist. Reading customer reviews can save you from renting a dumpster fire posing as a luxury suite. After every stay, guests are encouraged to leave an honest assessment of the property. If a rental receives an abundance of praise, it will be tagged as a Premier Host (Vrbo) or Superhost (AirBnb). Those are the listings you want to focus on.

Some hosts use camera tricks to make their property seem more luxurious than it really is.
How to decide when to evacuate.
When a hurricane enters the Gulf of Mexico, local news outlets immediately bombard us with nonstop storm coverage. The onslaught of worst-case speculation can make it tough to tell whether or not a hurricane is the real deal or a false alarm. Obviously, you want to keep your family safe, but you also don't want to spend $300 on evacuating just to see that it's 75 and sunny in Louisiana on the day the hurricane was scheduled to hit.
So how do you determine when it's the right time to evacuate?
Generally, if the storm is a category 1 or 2, flip a coin or wait and see how things progress. If you live in a low-lying area, you may want to evacuate just to avoid getting trapped at your house if the streets flood. If it's a category 3 or above, it's time to set your evacuation plan in motion.
How far in advance to book your rental.
We recommend reserving your rental 36 to 48 hours before the hurricane is projected to make landfall. Since there's always a chance of the hurricane shifting its path, a good strategy is to negotiate with the renter to see if he or she offers full refunds if you no longer need to evacuate.
"I like to reach out to the hosts beforehand to let them know my situation," says Lyndsey Delatte, a Laplace native who uses Airbnb to pre-plan her family's evacuation strategy. "It doesn't hurt to message the owners and let them know 'I live in Louisiana, and we have a potential storm coming. Is it possible to cancel if the hurricane changes course?' As long as they don't have a waiting list, many are willing to do that."
Beware of scams.
Renting someone's personal property is an exercise in trust. Unfortunately, there are people who exploit that trust for personal gain.
Since Airbnb charges a 3% commission on bookings done through their website, some hosts offer discounts if you agree to pay them on a different site or app, like PayPal. While this may seem like a good opportunity to save money, following a host to a separate website means you'll no longer be under the protection of AirBnb's conflict resolution procedures. The renter will be in a prime position to take your money and run without any repercussion. And your rental? There's no guarantee it will even be there when you arrive.
How to withdraw cash out-of-state.
If you are a member of Louisiana FCU, you are part of the of the biggest fee-free ATM network in America. No matter where you evacuate, you can access your money at any one of our 32,000 MoneyPass ATMs across the country.
To see how else, we've got you covered during hurricane season, visit our storm preparedness page.
Like this article? Subscribe to our blog for more helpful content delivered to your inbox weekly.