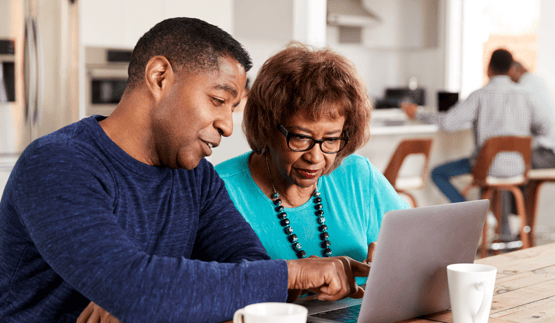 There may come a time when your parents can no longer handle their own finances.
Here are some tips for knowing when and how to step in to help them stay afloat.
How to determine if they need help.
Your parents were the first "real adults" you ever knew, so it can be hard to imagine them needing your help. But as surely as the sun rises, one day your parents will reach an age where they will no longer be able to manage their money.
As your mom and/or dad enter their twilight years, keep an eye out for these telling signs that they are in need of assistance.

They are making unusual purchases.
If your parents start buying random products that they don't need, never use or don't fit their lifestyle – you may want to investigate that. They could be victims of a scam or experiencing cognitive mental decline.
They have unopened mail.
The next time you're at your parents' house, keep your eyes peeled for stacks of unopened mail. If they are glossing over important documents like financial statements, IRS notices or bills, it's time to step in and help them meet their financial responsibilities.
Their physical health is declining.
As your parents age, easy tasks may become harder for them. Aches, pains and failing eyesight can make the simple act of writing and delivering a check too tough to handle.
They are showing signs of memory loss.
It's typical for your parents to experience a dash of forgetfulness in their 70s and 80s. However, if they start asking you the same questions repeatedly, misplacing items or forgetting common words when speaking, that's a red flag. Neglecting bills and losing track of cash is a recipe for disaster.
How to broach the subject.

Your parents gave you the "birds and bees" talk when you were younger, right?
Return the favor. Give them the "money talk" as they start to age.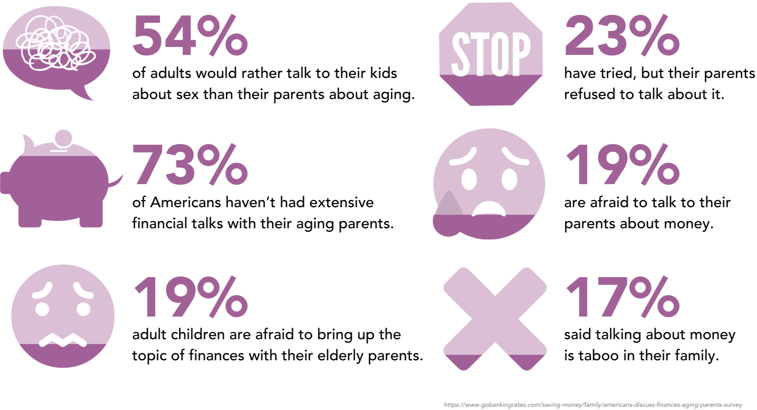 Be honest and gentle.
Money conversations with elderly parents aren't always welcomed. So, before you go out and declare yourself captain of their account, have an open conversation with them about your intentions. Explain that if something were to happen to them, you'd feel more secure knowing their finances wouldn't suffer for it. Remind them that you are there to help, and that you won't do anything without their permission.
Include your siblings in the conversation.
If you have brothers and sisters, it's important that you're all on the same page about this. Understand that you won't be able to control how your siblings feel or behave, but you can control your own actions. Set aside any sibling rivalries and keep things civil. Families who are willing to tackle money-related topics are more likely to overcome financial challenges.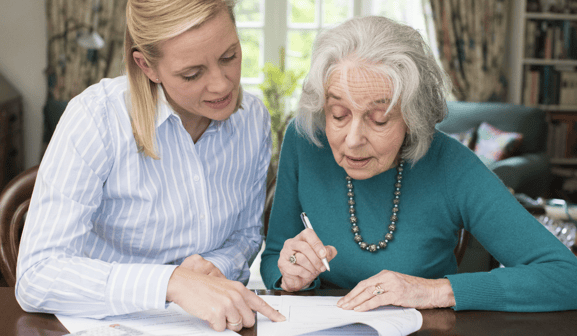 Using a respectful and tactful tone with aging parents can make financial conversations easier.
How to get a clear picture of their finances.
After you get the green light from mom and dad, here are the eight most important questions you should ask first.


1. Have you named a durable power of attorney for finances?

A financial power of attorney (POA) will take ownership of your parents' accounts if they were to become incapacitated. In absence of a POA, you'd likely have to file a petition with a court of law for guardianship of your parents' accounts. Find out if they have a financial planner to assist them with finances or legal documents.


2. Where do you keep your financial records and assets?

Make sure you have a clear list of all your parents' records, accounts and assets. If they've been hiding money under the mattress for years, they may have a sizable nest egg you don't even know about. Keep all account information, as well as a list of your parents' assets and their locations, in a secure place.

3. What is the name of your mortgage lender?

If your parents are still paying a mortgage, or another large loan, reach out to their lender to obtain the status of the loan and the reference number.

4. What are your monthly expenses?

Make a comprehensive list of your parents' fixed and non-fixed bills, as well as seasonal and discretionary expenses.

5. How do you pay your bills?

Ask your parents if they pay their bills via paper check, electronic check or online. Find out if they have any automatic payments set up and which accounts those payments are pulled from.

6. How much is your annual income?

Ask about Social Security benefits, monthly pension, investment dividends and any other income stream your parents may have.

7. What kind of health insurance do you have?

Find out if your parents receive Medicare or Medicaid benefits. Ask about possible long-term care insurance, which can cover the cost of a long-term health aide or assisted living.

8. Have you written a will or a trust?

It's a difficult topic, but a crucial one. Make sure your parents have a plan for what happens to their assets after they've passed, as well as the name of the attorney where it is filed.
My dad just texted me, with zero context, that I am the executor of my parents' will and then, with no transition whatsoever, began sending me pictures he took at the KISS concert

— han🌞 (@hannahharnichar) October 15, 2021
How to manage their money.
At this point, you're ready to establish a plan for managing, or at the very least, assisting with your parents' finances. Listen to their personal preferences and honor their dignity as much as possible. Ask them if they'd like you to take responsibility for one or more of their monthly financial-related tasks. Start by offering to pay their mortgage and car payments each month and go from there.

You can also help to simplify their finances. The first step in simplifying is automating as many bills as possible. If your parents have multiple high-interest credit card balances, you can consolidate their debt by paying off the balances with an unsecured loan. That way, they'll just have one loan payment each month.
Once things are feeling comfortable with your parents, see if they can add you to their checking and savings accounts. This will make it much easier in handling day-to-day transactions and pulling statements. If you have siblings, decide which one of you will join the account. Granting multiple family members access to one bank account often leads to a "too many cooks in the kitchen" situation. The goal here is simplicity. Pick one person and agree beforehand that whoever is added to the account will provide complete transparency to the others.
Taking over the finances of your parents can be a delicate and daunting task. Most people want to hang onto their independence as they age. Be understanding but also recognize this is often a necessity for aging parents.
Source: gobankingrates
Like this article? Subscribe to our blog and have great financial insights delivered to your inbox.